In this blog, we will explore in detail some of the strategies for completing last minute bookings, as discussed during our webinar on "driving last minute bookings".
Travel behavior for this summer is caused by a number of factors, such as ongoing travel uncertainty, booking pace is slowing down, accommodations' supply have increased and an interesting change in how travelers do things. By understanding what's going on and why, we will now explain how to act on this, more specifically, how to fill those last minute bookings. 
Are there adjustments you can make to your booking rules and policies to better accommodate these bookings? Or are you promoting the right properties on the right channels? And how can you make it easier for travelers to have confidence in their bookings? 
First of all, an overview of the demographics of these so-called last minute bookers will be given, then we will explain how to adjust your booking rules, how to promote available properties strategically and how to make it easy for travelers to have confidence in their booking. 
Demographics of last-minute bookers
To describe the last-minute bookers' demographics in the US, a focus has been placed on two generations in particular, i.e. the Gen Z and the Millennials. You might wonder why. Alex Alioto, founder of Whimstay, explains: "151,000,000 travelers in the United States are either considered millennial or Gen Z, and they are spending upwards of $350,000,000,000 on travel in 2022. So this is a massive part of our industry, right. And who constitutes our travelers right now? So, taking that into consideration, 151,000,000 travelers spend $350,000,000,000 in travel every year." 
Approximately 49% of millennial travel is due to last minute vacation choices. 
And 69% of millennials surveyed regret not taking a last-minute trip.
Approximately 51% of Gen Z travel is due to last-minute vacation choices, and 81% of millennials surveyed regret not taking a last-minute trip. 
Millennials and Gen Z chose travel and "seeing the world" as their number one priority. This is above monetary wealth, starting a family, and owning a home. So these two generations that are coming, not only are they spending $350,000,000,000 in travel, not only are last minute vacation choices what they want, but travel is their number one priority. So let's tie it all together. Over half the population's number one priority is travel, and their preferred way of traveling in the United States is last minute. Alex Alioto: "So this is massive. Not only are these guys set up to want to travel, but these guys are set up to want to travel in vacation rentals specifically. So I think we're in a really good spot if we could take advantage of it." 
Travel with pets
53% of all travelers take holidays with their pets. So, a pet friendly accommodation basically, at this point is kind of becoming a must. And 52% of those surveyed pet owners say that they only want to stay at a pet friendly vacation.
This is another massive differentiator for the vacation rental industry. For instance hotels, you can kind of bring a dog to a hotel, but at the end of the day, you don't want your pet to be locked up in a little room all day. So, again, this is a massive part of the vacation rental industry, and a big time differentiator.
Adjust Length of Stay & Open Up Gap Nights
A poll carried out by NextPax Inc., to understand where bookings are coming from, shows that 33% answered direct booking sites, followed by a call center, but, 57% were OTA listings. And that's really high. So when you're looking at where your channels are, there are some very different characteristics. First of all, we will discuss the length of stay.
Length of Stay
Across 100,000 bookings taken as a sample in the US, 41% of the bookings were for 3 nights or less. For 4 nights this is 56%, and for those below 7 nights it is 81%. If you're trying to really focus on that seven night stay, it may work for you, particularly during certain times of the year, such as Christmas holidays or the 4th of July. Jim Barsch, president of NextPax Inc., explains: " One of our Track customers had about 700 properties on Booking.com, a great beach destination over the Gulf Coast. They had a seven night stay requirement for the summer because that's what they've always done and they've always been successful.They were running pretty similar on their average pricing, but their accurate rates were way down.They decided to change it.They dropped to a four night LOS (Length of Stay), and we went from one or two bookings a day up to about +/- ten per day with that one change. So that had a huge impact. They didn't adjust their pricing.The only thing that changed was the minimum length of stay. So that to me is just a really big one that you need to look at."
Booking Pace
Another important variable is to look at what your booking pace is, because that will also help you when you need to be targeting these channels. What do you need to be doing based on each time of year? Now, when looking at the graph on booking pace, you'll see the differences, A lot of these channels are not going to deliver a lot of people to you tomorrow, but having a range of the channels out there and being able to price accordingly will make a big difference.
Consolidate Fees
The average property on our platform has 3.2% fees, this is an average of tens of thousands of units. When you start to dive in and look at what consumer behavior is and what their considerations are, it can make a huge difference.
According to research from Airbnb and Booking.com, roughly two thirds of travelers have stated they won't book a property with more than two fees. Half of travelers won't book if 15% of the trip is more than fees. So on the time you book the trip, it's $200 for the nightly rate and $300 or $150 for your fees. A lot of people don't want to do that. 95% of the property managers have a cleaning fee on their properties. If properties have one fee and no more, they have a 48% higher conversion rate than those that have three fees. So people expect a cleaning fee.
Jim Barsch explains: "A cleaning fee isn't as big of a deal, but when you start getting all of those other type of fees and the 60% number there, that's how many have some kind of a booking fee, a reservation fee, an administrative fee, and people have a negative reaction to that, particularly when they're on for example Airbnb or Vrbo, where there's also the guest service fee. So when we look at the fees right now from our poll, they have one to three fees, 14% four to six, and 5% at seven. Over 14% had none."
People don't like refundable deposits, and therefore eliminate these refundable security deposits. Instead they use damage waiver products, such as Superhog, Safely etc. 
Remarketing Ads and Emails
The channels are a great way to sell last minute availability, however, a poll conducted by Travelnet Solutions shows that at least 35% of the contestants are also selling through their direct marketing websites, which is a great way to get inventory out as well. People that are searching for you, whether they're booking six days or six months out, are probably doing some similar searches. So the best way to get found last minute, is to have a great digital footprint through marketing, through paid search, SEO and retargeting to clients. This way, you're going to stay in front of them. We know that even the best in class websites book at 1% or less. So that means 99 people out of 100 are coming to your website and they're leaving without booking.
Matthew Pauls, Senior Consultant at Atlas a TravelNet Solution, explains: "We deploy tools to nurture clients throughout their journey." "Our client here, see image, is an example of a wonderful email they sent through conversion optimization." Conversion optimization is a tool that grabs up to 10% of travelers' emails and automatically re-targets them as they're going through the booking process.
"They've done an amazing job here by educating their family owned business book Direct save 15%. But I love what they do in the PS here. They say, make sure to follow us on Instagram and Facebook. That's where we sell our last minute inventory."
Last Minute Specials and Website Promos
"I've also seen property managers selling lastminute inventory on channels like LinkedIn." If your clients are following you there,that's a great way to do it too." So once you actually have a solid digital foundation, when you have gaps to fill, you can go ahead and do targeted emails to pass guests.
"One of our clients in Texas is doing a special right now, trying to push people to stay mid week. We know there's a huge number of people that are still digital nomads and traveling during the week, whether it's for a few days or per month, and they're targeting them through these types of emails. They're also using promo codes." Promo codes are a wonderful way to reach out to past guests and apply discounts to them traveling with you.
These are the ease-of-use features that give guests flexibility:
Tailor your listings across each channel
Offer risk management options
Accommodate group travel
Send booking abandonment reminders
So we know travelers are still booking vacation rentals, albeit at different pace throughout different channels and with different behavior than we've seen in the past.
Managers have a variety of tools at their fingertips that can help them optimize their strategy across online channels to build their 2022 calendars. But in order to do that, managers also need to make it really easy for guests to find and book what they need to meet their expectations for frictionless experience.There are a number of features or functions available to managers that can help make those experiences easier,both on the back end for your staff, aswell on the front end for your guests. Whether that's consistent listing management, automated communications,or risk free payment options, what are some ways managers can help provide the seamless experience for their guests?
Listing Management
Jim Barsch: "Something I'm pretty passionate about, we have the advantage of the channel manager perspective. We work with 100 plus channels. We see what people do, and there are things which are common throughout every platform." 
The first thing that you're really going to drive is your content. Now I'm on the website, what is it that's going to get that person to look at your page? And this is where the OTA's really drive towards. While you're on Vrbo or Airbnb booking, what are the things that really catch your eyes and cause you to dive in? Of course this can be different for each customer.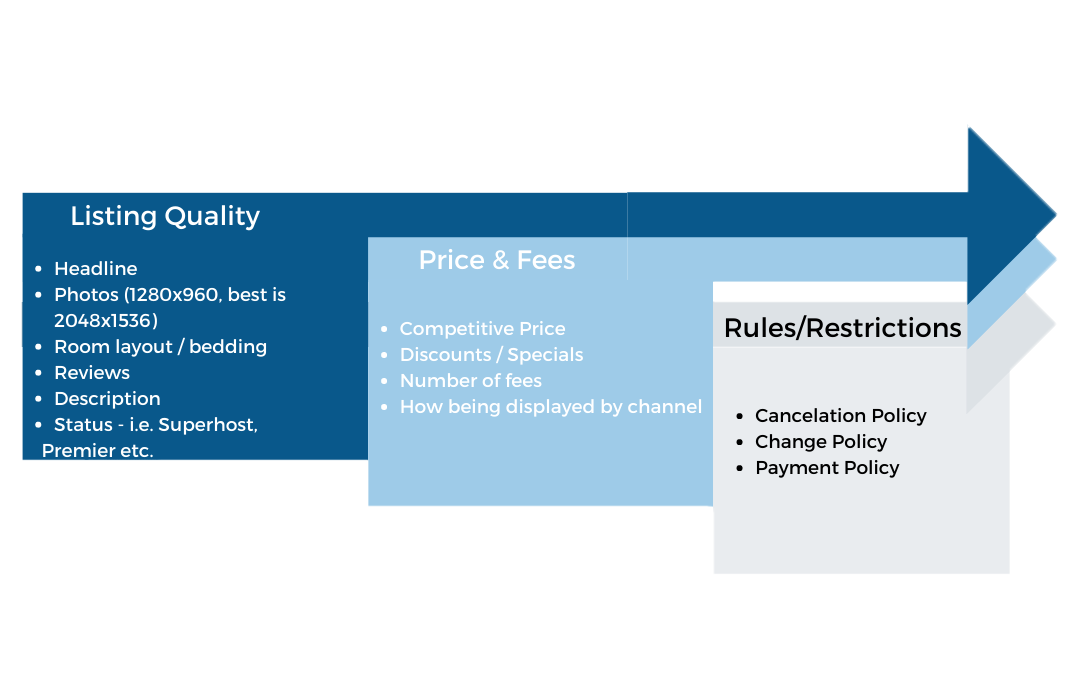 And it's going to be a little different for each customer. Whether you'll make use of attention-grabbing headlines or beautiful high-quality photos, this will drive more clicks.  Jim Barsch: "I would say today, with all the major channels, what drives the most is your photo quality. Pretty much most of your channels out there are going to say they have a resolution of 1280 by 960."
According to internal tools, 60 to 70% of channel property managers are there, but there are also some which are going for a larger photo.
So if you look at Expedia, for instance, if you don't have a minimum of a 2048 x 1535, you're considered a low res photo and you get no more than a 9% on your photo score.
So, high res quality photos are important, and don't forget about that hero image. 
The room layout is also important, as Jim explains: "some PMS might not support this, track does." Being able to specify and show for example a bedroom with an en suite bathroom etc. From there, one might go to the reviews. Is the person a super host? Do they really know what they're doing? From there on one goes to the price of the fees. A lot of property managers are using beyond pricing or some of the automated tools out there. 
Cancellation Policies
The next step in the process is checking out cancellation policies. "If I click the book now and provide my credit card details, have I just locked in?" So there's a tremendous amount of research around public perception and what will look well, what won't book well.
A relaxed or fairly easy cancellation policy would be the option to cancel up to 14 days before a 15% higher conversion rate.
So if you can, from a relaxed or fairly easy way you can cancel up to 14 days before a 15% higher conversion rate than when you start to make it a little bit tougher to cancel. If you go from a non-refundable compared to a relaxed cancellation policy, these fees will have a 59% higher conversion rate, compared to completely non-refundable policies. 
We extra moderate up to a strict policy. It's basically Vrbo 24% higher conversion rate once you look at that difference. Now, if you go from a non-refundable compared to a relaxed, your relaxed fees of 59% higher page conversion than those who are just saying, hey, you booked it, it's completely non refundable. Now you want people to book. You want them to be sticky. You want to start to communicate with them. And so if you can at least get them to book, then you're 90% of the way there. So really look at what those rules are. Jim Barsch explains: "Again, using an example of a very large customer of ours, they had a non-refundable policy on booking.com. Book it, you own it, period. They dropped down to a free cancelation up to 30 days, after that was a 50% cancellation penalty. And again, we saw bookings go up immediately." So think about what you can do there. It's incredibly important. 
Top Amenities and Characteristics
"More is less" does not apply when it comes to amenities and characteristics, instead it should be: "more is more". Looking at the four largest OTA's in the US, the number one search was pool. Unsurprisingly, during summertime the number one searches are beach and warm destinations. Next, the number one things people are filtering on are: lodging type, hotel, condo, waterfront beach, hot tub. High speed Internet and WiFi ranked number five, but used to be in the top two, this is probably because having WiFi is perceived as something usual, and so people assume they will have it. Airbnb, for instance, now has a tool that lets you test the speeds and actually publish it. Other highly searched filters include for instance, pets and big kitchens. Track has a great number of characteristics and amenities. Jim: "we recommend when somebody onboards to NextPax Channel Manager, we include all that content and at that point go through what we have, additional checkboxes and more, and then we'll send you on your way to a channel and hopefully drive a lot of bookings for you."
Conclusion
So how can you fill those last-minute bookings? By looking at the demographics of travelers, in particular the millennials and the gen z generations, we can see that travel is their top priority, and their preferred way of traveling in the United States is last minute. And more so, they are set up to want to travel in vacation rentals specifically. Another big differentiator for vacation rentals is the opportunity to provide stays with pets, as more than half of these travelers travel with pets. Adjusting your length of stay will have another big impact if done correctly. 
Distributing on a range of booking channels out there and being able to price accordingly will make a big difference. Consider the amount of fees you implement to avoid missing out on travelers' needs and wants. Make it really easy for guests to find and book what they need to meet their expectations for frictionless experience. Another important driver is the content you provide on your website, and therefore you should reconsider listing qualities. Have a look at your cancellation policies and understand the rules. Finally, include more amenities and characteristics on your listings, in this case "more is more" applies instead of "more is less". 
Are you ready to implement these strategies for your vacation rentals to drive more last-minute bookings and diversify your distribution strategy? Contact NextPax Full-Service Channel Manager to get started.