Got2Go: A Vacation Rental Booking Platform - created by hosts for hosts.
Got2Go is an online travel booking platform for people to discover, book, and list vacation rentals across the US – with a focus on beautiful design, dedicated customer service, and targeting new types of travel. 
A vacation rental booking platform created by hosts, for hosts.
Choose your Full-Service Channel Manager to list and manage your accommodations on Got2Go, easier and quicker.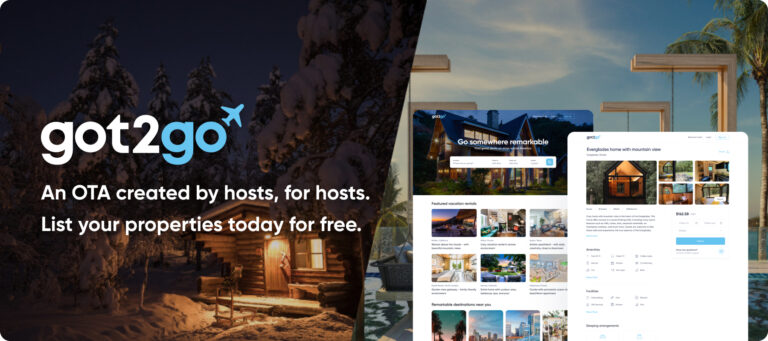 Why choose NextPax as a Channel Manager to list your accommodations on Got2Go?
The mission of Got2Go is to make the end to end travel booking experience more simple, accessible, and remarkable for users.
Aside from catering for all general travelers, Got2Go will also double down on targeting hypergrowth markets going forward, including:
Event based travel 
Targeting travelers who are going to local events and looking for places to stay – including sports games, concerts, conferences, festivals, and more 
Extended stays 
Targeting travelers who are looking to book stays for a month or more e.g. digital nomads 
Regional travel 
Targeting travelers who are looking to visit regional and unique destinations across the US