19 August, 2022
The NextPax Channel Manager Developer Portal has a brand new look! 
The new and efficient design enables users to navigate easier to the sections of choice, minimizes effort and time invested on interacting, and helps you accomplish your goals a whole lot easier and faster.
The fresh UI design prioritizes the user's visual experience, moreover, the interface provides more functionality, and it makes the experience more enjoyable. The streamlined and refined design of the channel manager developer portal focuses mainly on the ease of use, delivering a more user-friendly portal.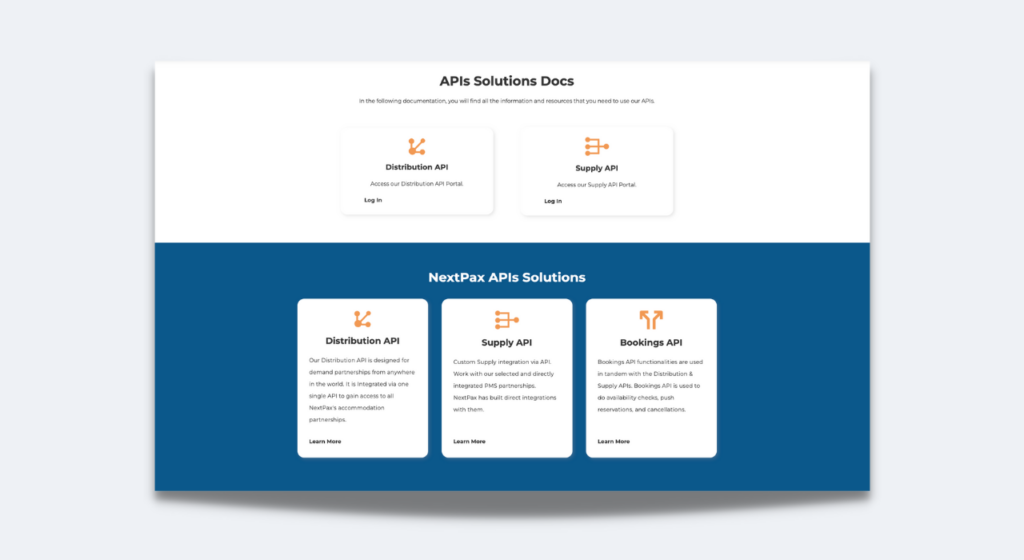 Developer Portal for Distribution API
We provide distribution towards all the global OTA players and Metasearch engines. Aside from that, accommodation partnerships can integrate various regional players, in a wide variety of segments. Make a selection of your preferred distribution channels here. With over 100 distribution channels available for your accommodations, your next guests are knocking on your doors sooner than you think.
Learn more about the Distribution API
Developer Portal for Supply API
If you are an accommodation partner having a large amount of accommodations and you use your own system to manage the entire operations, use our Supply API to connect all the information you want to distribute and in return you can synchronize all bookings and payments automatically in your technology! Have your developers explore our Supply API to understand how they can connect your business to the world. The Supply API is based on REST/Json technology and we have Swagger Documentation in our Developer Portal available to make development easier and faster.
Learn more about the Supply API