The NextPax Channel Manager Booking Engine is the ultimate solution for property managers and owners looking to streamline their online direct bookings.  With our advanced features and user-friendly interface, you can maximize your property's potential and attract more guests than ever before.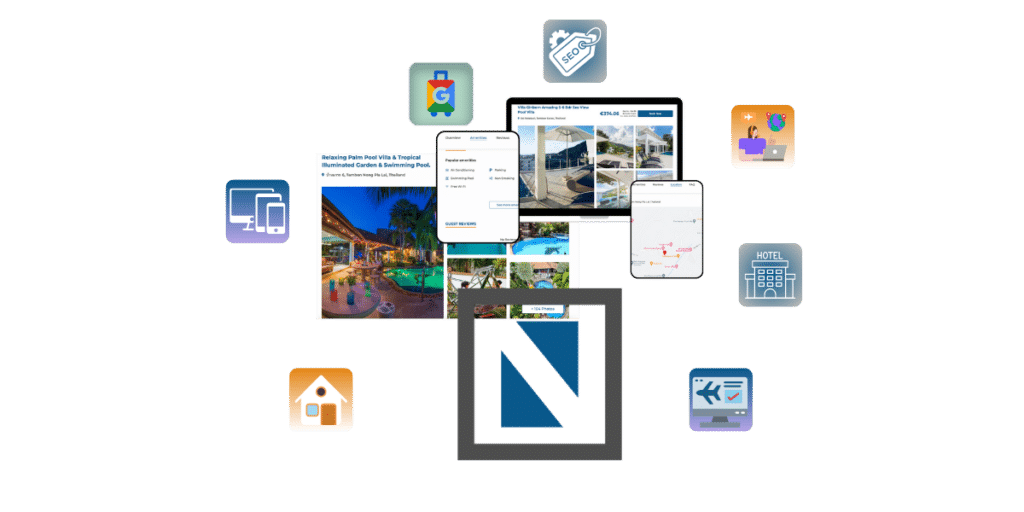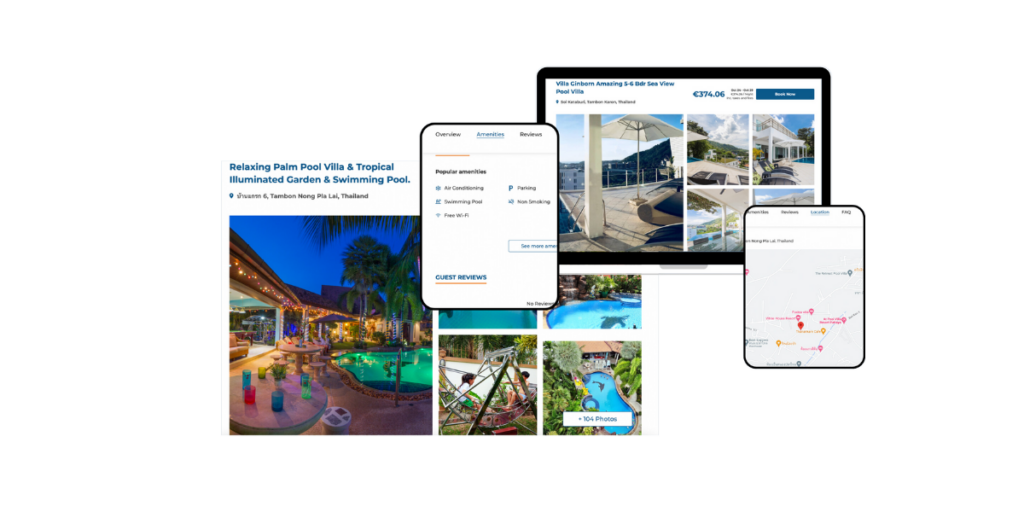 Why the NextPax Booking Engine?
Our booking engine simplifies the reservation process by providing a centralized booking form where guests can search, select, and book accommodations or services securely and conveniently. It streamlines the communication between guests and providers, ensuring a smooth and efficient booking experience for all parties involved.
Increased Efficiency
Expanded Reach
Maximize Revenue
Streamlined Operations
Features of the Booking Engine
Discover the enhanced features that will revolutionize your property bookings across various platforms, including your own website, Google, Meta search websites, and other OTAs. With our booking engine, you have the flexibility to easily link the booking form to your static website, enabling you to effortlessly accept and manage bookings directly.  
User-friendly design for showcasing dynamic property content
Immerse your guests in an intuitive and visually appealing experience with our redesigned booking form. Seamlessly navigate through all sections and gain a comprehensive overview of your property's content. The improved user interface ensures effortless exploration of your property details.
Enhanced features for comprehensive property information
Our booking engine provides a wealth of details to help guests make informed decisions. From a comprehensive overview of your property's features and amenities to dedicated sections for reviews, location, and FAQs, we've got you covered. Engage potential guests with dynamic content that showcases the unique selling points of your property.
Seamless Communication for Personalized Assistance
Our booking form provides an option to display contact information. If visitors have additional questions or require further information, they can easily reach out to you, facilitating personalized and prompt assistance.
Mobile and Tablet Compatibility
In today's mobile-driven world, optimizing your online presence for mobile and tablet users is crucial. Our booking form is fully responsive and ensures a seamless booking experience across all devices. Capture the attention of on-the-go travelers and provide a user-friendly interface that increases conversions and customer satisfaction.
Support for All Property Types
The NextPax Channel Manager Booking Form is designed to cater to a wide range of property types. Whether you manage vacation rentals, traditional hotels, resorts, or other accommodation options, our booking form is flexible and adaptable. Experience the convenience of managing all your bookings in one centralized platform.
Stand out in the crowded online marketplace with our SEO-friendly Booking Form. We understand the importance of search engine visibility for driving organic traffic to your property. By optimizing our pages for search engines, we enhance your property's online presence, improve search rankings, and attract more potential guests.
Guests provide their desired travel dates and preferences through the booking engine. The system utilizes this information to search its database and present available options that align with the specified criteria. 
The booking engine retrieves real-time availability and pricing information for each option. Guests can view details such as room types, rates, amenities, and any additional services offered.
Once guests have chosen their preferred option, they proceed to provide their personal information, such as name, contact details, and payment information. The booking engine ensures the security of this sensitive data through encryption and secure payment gateways.
After the guest submits their information and completes the payment process, the booking engine generates a confirmation. This confirmation typically includes a unique booking reference number, reservation details, and any important instructions or policies.
The booking engine updates availability in real-time, ensuring that the chosen option is reserved and no longer displayed as available to other potential guests. The property or service provider receives the reservation details and can manage the booking accordingly.
Our booking engine incorporates robust security measures to ensure your personal information remains protected. 
Should you have any concerns or require assistance, our dedicated customer support team is available to address your queries promptly. We are committed to ensuring your guest's booking journey is smooth and worry-free.
Secure Payment Process
We partner with reputable payment gateways to offer secure and reliable payment options. You can trust that your financial details are handled with the utmost care.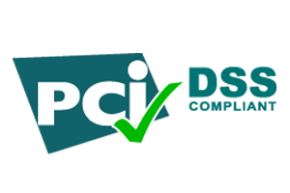 Would you like to get started with our Booking Engine?
Or would you just like to learn more?

Schedule a call now!