PaxGenerator GDS: Connect with 600,000+ vacation rentals
Based in the Netherlands, NextPax serves the vacation rental market as well as the hotel market, with a unified platform for booking channels and websites to expand their portfolio. Updates and bookings are registered instantly and synced throughout the network.
What is NextPax?
NextPax provides a two-way channel management solution developed according the highest technical standards. It is a solution for sites and channels that offer vacation rentals (VR) as well as hotel rooms on one side, to connect with owners and managers of hotels/VR on the other side and let synergy take it from there.
I manage a booking channel for vacation rentals/hotel rooms. What can NextPax do for me?
increase your portfolio in depth and variety

get more bookings through your channel

help your clients better

avoid overbooking

facilitate payments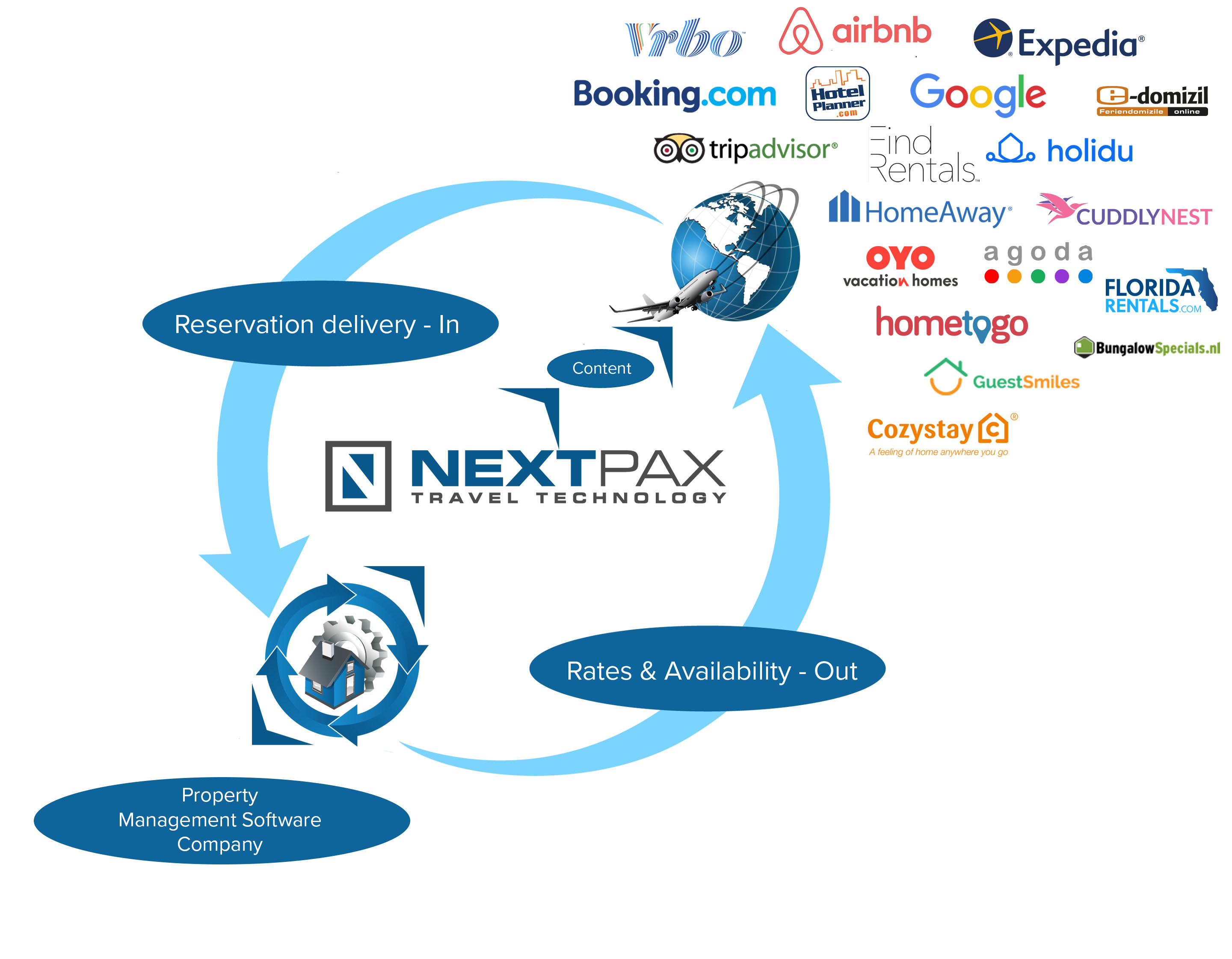 If managing a website or channel, would this mean making adjustments to your work-flow?
No. First thing is to come to an agreement with the property manager. Then you have to establish the connection between our servers and your database. Once this process is ready, availability data, rates, photos and property details from the agencies, sites and

property managers

you partnered with, are available on your site. It should be business as usual for you. Just a lot more business.
So how does it work?
We have connections with countless large and smaller agencies, owners and managers of vacation rentals and hotel rooms. You, managing a booking channel, select the ones you want to partner with, reach out to them to set up a partnership and NextPax makes the connection. Now, data coming from their various property management systems are translated into universally interpretable data and is then enriched to meet the specifications of your site or channel.  
The connection is real-time and two-way. The very second a booking of a property is confirmed on your site, the NextPax system blocks its availability (for the confirmed period) in all other channels to rule out double bookings. Subsequently, NextPax updates the partner's management system with all relevant information, such as guest information, booking dates and billing details as provided by your customer.
I'm concerned about quality.
We understand that a poor holiday experience booked through your site reflects badly on your reputation. That is why we have taken all available steps to avoid double bookings and demand from our property managing partners that they provide truthful and up to date information regarding their property.
What more can you tell me?
There's so much more we can tell you about NextPax. About the many clients we have helped so far, about the millions of visitors that connect through us each day… But we would rather speak with you in person and tell you about what we can do for you and your business. Contact us now!