[fullwidth backgroundcolor="" backgroundimage="" backgroundrepeat="no-repeat" backgroundposition="left top" backgroundattachment="scroll" video_webm="" video_mp4="" video_ogv="" video_preview_image="" overlay_color="" overlay_opacity="0.5″ video_mute="yes" video_loop="yes" fade="no" bordersize="0px" bordercolor="" borderstyle="" paddingtop="20px" paddingbottom="20px" paddingleft="0px" paddingright="0px" menu_anchor="" equal_height_columns="no" hundred_percent="no" class="" id=""]
NextPax, provider of channel management technology and Dormio Resorts & Hotels, specialized in the rental, administration and management of holiday resorts and hotels, announce a distribution partnership. As of today, the inventory of Dormio is available on a large number of distribution channels via the connection with NextPax, including Airbnb, HomeAway/Vrbo, Holidu, e-domizil, BungalowSpecials and HomeToGo.
As market leader for online distribution of holiday parks in the Benelux countries, NextPax provides the connectivity to list and synchronize the inventory of Dormio on all connected channels. 'We receive the fast growing inventory of Dormio through the connection with property management system Bookzo, and bring the properties under the attention of millions of potential guests via our international network,' says Erik Engel, CEO of NextPax. Rates, availability and content (pictures, descriptions and amenities) are being managed from the central reservation system Bookzo, and can be enriched on the NextPax platform if desired. Making manually updating extranets of several booking channels belong to the past for Dormio Resorts & Hotels.
'The partnership with NextPax enables Dormio to reach an ever wider audience,' says Raymond Hoevenaar, Director of Dormio Resorts & Hotels. 'The first results are very promising and we look forward to distributing the growing inventory of Dormio on even more channels in the near future, significantly increasing the chances of a property being booked.' Technology partners Dormio, Bookzo and NextPax are in the process of connecting the inventory of Dormio to even more channels like Expedia, TripAdvisor, atraveo and Ctrip.
Interested?
Would you also be interested in distributing the inventory of Dormio Resorts & Hotels? Please contact your Account Manager at support@nextpax.com.
About Dormio Resorts & Hotels
Dormio Holidays is a young, fast-growing organisation specialized in the rental, administration and management of holiday resorts and hotels. Meanwhile owning 10 holiday resorts and hotels, Dormio Holidays is a fast-growing player with a fresh view on the industry.
Dormio Holidays has resorts and hotels in the Netherlands, but also in Austria, Germany, France and Bonaire. With its 10 holiday resorts and hotels, Dormio rents out and manages a total of approximately 700 holiday accommodations and has more than 300 employees.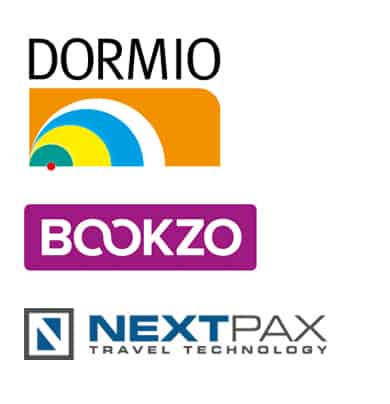 [/fullwidth]